Westmont High School
Class of 1965
In Memory
Michael J. Amaya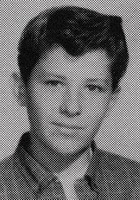 Michael J. Amaya embarked on his new adventure, from his home in Santa Cruz on June 25, 2010. He was 62 years old. Michael was born in Oakland, CA, on September 14th, 1947, to his beloved mother, Jessie Lou Amaya and father, Leslie Cody Amaya. He was the baby of six children. The Amaya family moved to Los Gatos soon after, where Michael spent most of his life, until finally settling in Santa Cruz. He simply adored Santa Cruz and wouldn't move back "over the hill" for anybody or anything.
Michael was a successful and highly respected real estate broker for the Santa Clara County for 25 years. He was a brilliant salesman. He served proudly in the Vietnam war and was honorably discharged at the end of his service. He will be greatly missed by all of his friends at the VFW Post #7263 in Santa Cruz, where he spent many an afternoon enjoying a Diet Coke or three.
Michael was a self-proclaimed comedian and ladies' man. He was a modern day Rhett Butler and always the life of the party. He raced stock cars in the ?70s and loved to ride dirt bikes in Hollister. He treasured his spare time, restoring cars a ?68 Chevelle, his masterpiece, rising early to watch Wimbledon, traveling to Mazatlan, Mexico and laughing all night long with his buddies. Michael LOVED music, especially Motown/Soul. Lionel Richie, George Benson, Peabo Bryson and Smokey Robinson were some of his favorites. Michael's other great love was food. He especially enjoyed Stagnaro's and Carpo's...not to mention, the Dominican Hospital turkey sandwiches. ;
Michael will be both sadly and immensely missed by his beloved children, Scott McLean of Campbell, Jennifer Amaya of Los Gatos and Erika Amaya of Willow Glen; dear ex-wife and friend, Vera Amaya; his beautiful grandchildren, Briana and Brooks McLean and loving nieces, Michelle and Leslie Amaya.
A memorial celebration of Michael's life will be held at 2pm on Thursday, July 8th, at the Center for Spiritual Living at 1195 Clark St. in San Jose, CA, 95125. Floral donations for the service would be gratefully appreciated. Please contact Jennifer Amaya at jennnesting@yahoo.com or Erika Amaya @ 408 966-6627.
Published in Santa Cruz Sentinel on July 2, 2010